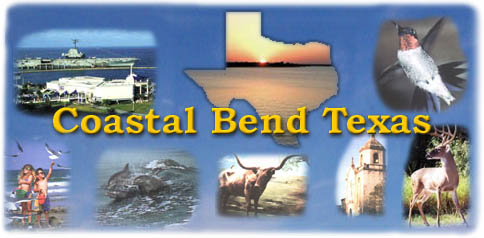 Texas Coastal Bend
Inland Communities
Yorktown, Texas - The Shining Star of Dewitt County

More than a century ago Yorktown, which is DeWitt County's oldest incorporated town, was founded by Captain John York and Charles Eckhardt, during the administration of Governor G. L. Wood.
In honor of Captain John York, in whose breast burned the Spirit of Empires, the town was named Yorktown. Captain York was born in Kentucky on July 4, 1800, and came to Austin County, with his parents in 1821. He became a famous Indian fighter and was in command of a company of citizens who, under Ben Milam, defeated General Cos and 1,500 Mexicans in 1835 at the battle of Bexar. For his military services, York received many acres of land in the Coleto Creek area. Being interested in colonizations, he felt he could enhance the value of his property by establishing a settlement of his land. In 1846, two years previous to the founding of the town, Captain York moved to Coleto Creek, a short distance from where the present town is now located. Captain York lost his life in October, 1848, in a battle with Indians who had raided on the settlement of Yorktown.
Early in 1848, after the founders had the proposed town surveyed, they offered ten acres and the choice of a lot free to the first ten families to settle the townsite. Many German, Bohemian, and Polish families came and soon changed this wilderness into one of the most prosperous sections of the entire state.
In the late 1800's many businesses were established including grist mills, cotton gins, groceries, dry goods, saddleries, millers, blacksmiths, butchers, hotels, saloons and beer agencies, tailors, barbershops, bottling works, dance halls and opera houses, physicians and undertakers, and a drug store, confectionery, stage stop and livery stable, and newspaper. Upon observing its the anniversary in 1898, Yorktown had a list of 63 proprietors in these various categories -- a thriving town, indeed!