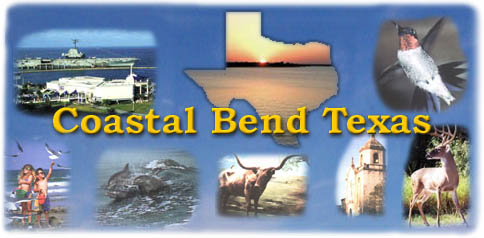 Kenedy Texas Information
Texas Coastal Bend
Inland Communities
Kenedy

, Texas - The Junction Where Good Friends Meet
Once known as "Six Shooter Junction," Kenedy is located at the intersection of Highways 181 and 72, midway between San Antonio and Corpus Christi. The name depicts the colorful history of this city, as it was a major stop on the San Antonio and Aransas Pass Railroad during the frontier days.

Historical markers are placed around Kenedy to guide visitors through the towns colorful past. Robert Thonhoff, local historian, has written a book on Camp Kenedy that tells the story of the WW I training camp that was used as a CCC camp and then became an internment camp for prisoners of World War II. The Kenedy Alien Detention Camp was located on the outskirts of town. Visitors can pick up a map at the chamber to help locate the historical markers, the area of the camp and burial site.

Historic Mural
Visitors are invited to visit the Kenedy Post Office for a unique opportunity to enjoy a colorful mural--a significant aspect of our heritage. "The Grist Mill", painted during the Great Depression 1934-43, was part of a program the federal government called the New Deal Art Murals. This program provided help to needy artists and offered a vision of hope to communities struggling with acute economic and social hardships. Kenedy has one of only 65 post offices that were decorated with these murals featuring scenes of local interest, history, folklore and industry.

Stroll Downtown
Kenedy is enjoying a rebirth with many new establishments opening their businesses in historical buildings that have been restored and remodeled. Stroll the downtown streets and visit the boutiques, antique shops, gift and flower shops, and art gallery.
Stop for lunch or refreshments along the way. Several bed and breakfasts located in the downtown area provide a unique get away experience.
The Hwy 181 corridor offers more gift and flower shops, restaurants, motels, RV parks, and is the gateway to Joe Gulley Park.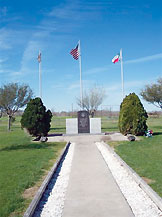 Joe Gulley Park in Kenedy
Recreational Opportunities
Joe Gulley Park, the site of the World War II Veterans Memorial, offers a covered pavilion with barbeque pits, picnic tables, a place to play horseshoes and washers, and a volleyball and basketball court. There's also running tracks and baseball fields for Kenedy to host softball tournaments every year.
The Nature walking trails provide an opportunity to enjoy the variety of birds, wildflowers, and other wildlife that flourish in the park. There will soon be an aquatic plant exhibit and a horned toad habitat area.

Horned Toads & Wildflowers
In 2000, the 77th Texas Legislative Session proclaimed Kenedy the Horned Lizard Capital of Texas. The Horned Toad season and Toadyville tours start in May and continue through November. The Horned Toad Gift Shop is open year round.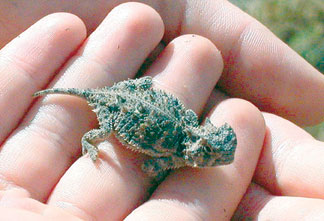 Horned Toads can still be found in Kenedy
In spring the rolling hillsides around Kenedy are vibrant with an abundance of wildflowers. Driving the back roads and enjoying the display is a perfect day trip or can be a great weekend get-away.

Bluebonnet Days in April is a family fun weekend which kicks off with the Queen's Coronation on Friday night followed by a parade Saturday. The fun continues all day with plenty of entertainment, vendors of all kinds, softball tournaments games, contests, and a cook-off.

Hunting & Golf
For golf enthusiast, a 9-hole golf course is available. For hunters there is an abundance of deer, quail, dove and hog. The Chamber can provide information on seasonal or year round hunting leases that are available.
Karnes County Airport, located in Kenedy just off Hwy 181, is open Monday-Friday and has a hard service runway with lights, plus maintenance, parts and even new planes.

In the Area
Panna Maria is the "Oldest Permanent Polish Settlement" in the USA and the Cradle of Polish Culture. Established in 1854, the buildings and museum house artifacts of several generations which preserve the heritage and culture.
Helena Court House Museum is located between Kenedy and Panna Maria. It offers a view into what life was like in South Texas during the 19th century.

Welcome Winter Texans
Come and enjoy the rich heritage of the area, visit the museums and parks and experience true Texas hospitality.
Kenedy is 60 miles from San Antonio and 80 miles from Corpus Christi and the coastal area.
Everyone is invited to come and visit and stay a while. Enjoy the blue skies, fresh air, and friendly folks. Kenedy is a wonderful place to visit, raise a family or spend retirement years.
Please visit the Kenedy Chamber of Commerce at 205 S. Second St., or phone us at 830-583-3223. You can visit our website at www.kenedychamber.com.