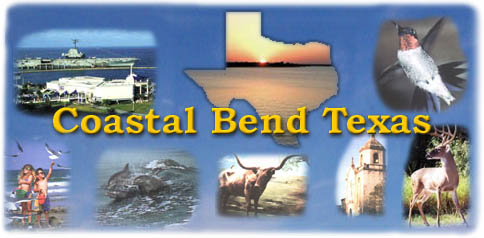 Mathis Texas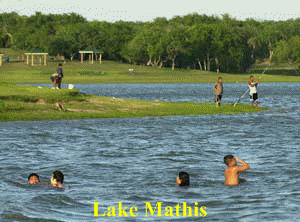 Photo from cityofmathis.com


Mathis - Mathis has long been synonymous with good fishing and water recreation, but the city and surrounding area have much more to offer residents and visitors alike.
Lake Corpus Christi Mathis
Mathis was established in 1885 and today serves as a commercial center for an agricultural area that features livestock and cotton, also produces large quantities of grain sorghum, flax and varied truck crops. San Patricio County has extensive oil production and petrochemical plants. Mathis is the major gateway to lake Corpus Christi and to the popular facilities and boat ramps around its shores.
Beautiful Lake Corpus Christi is a 21,000-acre reservoir on the Nueces River lying four miles southwest of Mathis. The
lake is a popular recreational, garden spot in South Texas offering excellent waterbased recreations such as swimming, skiing, boating and fishing. A favorite fishing area for all fishermen. Large areas of submerged brush in the upper reaches of this 27-mile-long lake provide prime fish habitat. All fishing is good; however it is noted for its excellent catfish-channels, flatheads and blues; the record is a flathead weighing 60 pounds. Also noted for its white, black and striped bass; perch and crappie. Record largemouth bass is 13.5 pounds.
The area is a winter home for hundreds of Winter Texans from all parts of the state and country as well as Canada.
Around its more than 200 miles of shoreline numerous camps and parks provide campsites, boat ramps, fishing piers and RV and mobile home areas. A main attraction is Lake Corpus Christi State Park whose 350 acres surround a cove, protected from the prevailing south-easterly winds by high limestone cliffs, and providing a scenic view of the main body of the lake. Favorable climate offers opportunities for year 'round activities.
History abounds in the area, with once beaten battlegrounds now lush with farmland, brush, and grass for grazing cattle. The Nueces River at one time divided Texas from Mexico. It was a much disputed boundary, and it wasn't until the
United States/ Mexican War that the issue was settled, making the Rio Grande the official boundary. One of the more famous battles between the two countries was fought at Old San Patricio, founded by the Irish and located 10 miles south of Mathis. The area, once inhabited by Karankawa and Lipan Apache Indians, became the site of several unsuccessful settlement attempts in the 18th and 19th centuries.
Historical Points of Interest Around the Lake and Mathis:
Lagarto (1858) began a steady decline when its leaders rejected the railroad in 1887.
Fort Lipantitlan - a Spanish fort built in 1728 - During the Texas Revolution time period, the fort changed hands on several occasions between the Texans and Mexicans. The fort was located across the Nueces River from San Patriocio.
Fort Casa Blanca - was originally erected by Spanish soldiers for protection of the king's nearby silver mine. Now in ruins, the fort was located a few miles west of Sandia.
Dinero - named for gold buried by Santa Anna's fleeing Mexican army after their defeat at San Jacinto in 1836.
Old San Patricio (1828) - settled by Irish,named for their patron Saint Patrick (San Patricio in Spanish). Played an important role in Texas War for Independence and Texas history. In 1863, the first woman in Texas to ever be legally hanged was executed here.