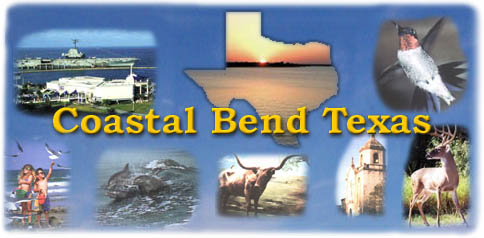 Cuero Texas Information
Texas Coastal Bend
Cuero, Texas - A Classic Texas Town


Cuero is a classic Texas town, proud of its history, proud to share that legacy, and proud to be progressive as it looks to the future.
Wide streets with stately oak trees shading the picturesque homes and buildings reflect the period of colorful Texas history beginning when the first settlers chose the area in the mid 1800's. The charming mixture of old and modern attracts visitors to tours, reunions and other special events all year 'round.
As Cuero became known for its great turkey industry around the turn of the century, the city was rocketed to national prominence and began celebrating the famous Turkey Trot festivals. Now, in memory of those days, it has been celebrated as Turkeyfest and will observe its 30th anniversary the second week in October, 2002.
| | |
| --- | --- |
| DeWitt County Wildflower Association hosts Wildflower month in Cuero every April. | The Turkeyfest Association hosts the annual Turkeyfest each October. The festival is the second full weekend of October each year. |
| | |
| --- | --- |
| | The outlying areas can be a hunters' paradise with its variety of game including deer, dove, quail, hogs, and turkey. DeWitt County has an active Game Management Organization to improve the quality of wildlife available. You can contact the County Extension Agent at 275-5731 for more information. |
| | |
| --- | --- |
| The Guadalupe River provides great fishing for the avid river fisherman. In May, the Texas River Marathon, an annual 45 mile canoe race, is held in Cuero. This race is the preliminary race of the Texas Water Safari, a 260 mile canoe race, held in June which runs from San Marcos to Seadrift, Texas. | |